Dearest Friends,
We hope this letter finds you all staying healthy and well and that you had an amazing holiday time.  
On behalf of Kingdom Legacy, its board of directors, and all of our sweeties in the Philippines, we would like to thank you for your generous donations this year.  It's been a year of ups and downs as I'm sure it has been for you as we continue to navigate through COVID times, but one thing that we have witnessed is God's hand that calms the storms and says, "Peace Be Still."  For sure we have seen His hand work in mighty ways in 2021 and much of that was from all who gave to our various outreach projects throughout the year.
We thought we'd share a couple of highlights from the year and update you on the typhoon
relief efforts continuing to go on there:
– Monthly Feeding Programs continue every Wednesday and Saturday to 7 different
feeding sites. Our KLM youth who have been through leadership training this year have
been diligent helpers doing both ministry and serving. This year, over 30,000
meals have been served to our sweeties through your
donations.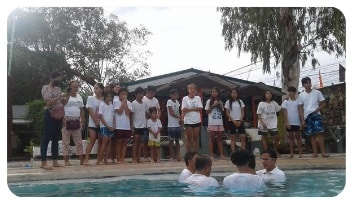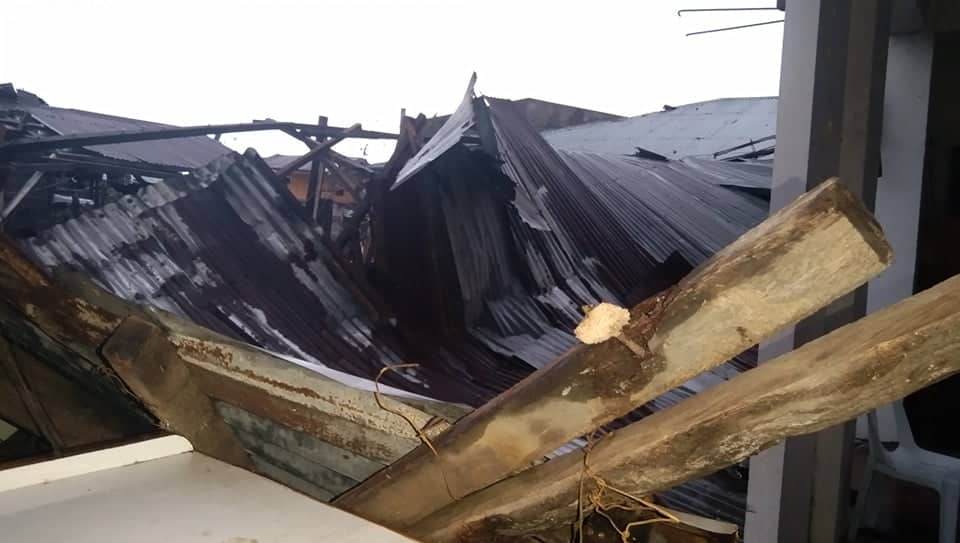 This fall, KLM helped to send 77 of our kiddos back to school by paying their school fees, buying uniforms, shoes, and school supplies.
through the outreach and discipleship of the church.
In December, Typhoon (Rai) Odette struck the Philippines directly over the central Visayan region where the KLM headquarters are.   Over 400 Filipino friends lost their lives and thousands of homes and livelihoods were destroyed.  While our KLM house stood firm, the area where the church is held was demolished and we lost the water tank which is vital for clean water there.
While our KLM house stood firm, the area where the church is held was demolished and we lost the water tank which is vital for clean water there. Dennis' own family lost their homes and most of their belongings and 15 of our youth are still being housed at our KLM headquarters due to their homes being lost.  BUT GOD!  Through so many precious gifts, we were able to begin to provide essential typhoon relief like food and clothing, AND have enough to rebuild what was destroyed by the typhoon.  We are incredibly blessed by the response.  So far, over 300 families have or will receive food, clothing, and other necessities through those gifts.  This is SO important due to limited resources and the high need there right now.  Thank you, thank you for being a light to those who have gone through such a hard time. 
Christmas Project- Through some sweet blessings, after so many of our sweeties lost their belongings, we were able to provide over 60 kids with Christmas presents this year. The package consisted of new clothes, a toy, toothbrush, toothpaste, washcloth and soap.
Lastly, this year before the typhoon happened, we launched a project to purchase the building we've been renting where we prep food, hold the church, and where all of our programs are run out of including typhoon relief during this time. Now more than ever, we have realized that this location is a central hub to spread hope to the region and it's time to purchase it.  Our dream was big as we put out the goal of $100,000 to purchase the facility.  We're so happy to share that we are already halfway there at $50,000 given to the building fund.  We are confident God will continue to provide what we have need of and are so grateful for your gifts to help make it a reality.
As we sit back and look at these various things, what can we say, but THANK YOU GOD and THANK YOU to our amazing partners.
We will continue to work diligently in this New Year to finish the building project, send more kiddos back to school, raise up the next generation of leaders through our youth discipleship programs, and be ambassadors to other churches, people, and businesses.  With your continued partnership, we pray that this would be a year of multiplication and that we all would get to be a part of bringing glimmers of hope to our families around the Globe.
With much love and thanks,
Dennis and Emily Alejo
Program Directors, Kingdom Legacy Ministries
P.S.  We would love to visit new churches, businesses and friends in 2022 to share more about the mission of KLM.  If you would like to arrange something, contact Emily at [email protected].