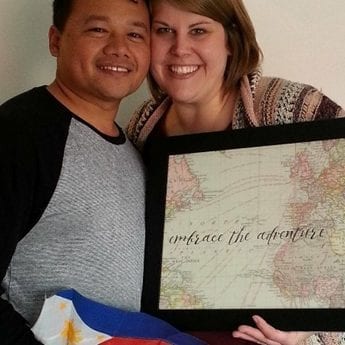 Dennis and Emily Alejo- Founders
Imagine having 9 kids currently and one on the way. You are making only $3.00/day through sorting trash that is dumped at the dumpsite. When you must choose between feeding your kids or sending them to school, you scrape together your coins to make sure they at least have some rice in their stomachs a few times a week.
Now imagine being the child of that family. Mom is out working day after day, dad is in prison, and you are alone from sunup to sundown. The dump is nearby, and you need to find your next meal, so you comb through the trash to see if there are scraps that the wandering dogs have not gotten a hold of yet. You become known as a batang basura or "stinky kid."
This is the story of many of our children that we serve at Kingdom Legacy Ministries. It is actually a very close story to us as Dennis, the founder, grew up scavenging for food from the age of 8. In fact, at one point, he went 4 days without food. It was through someone bringing him some food and sharing the Gospel to him that he received a lot of hope.
Kingdom Legacy Ministries is a non-profit that was founded in 2018 by Dennis and Emily Alejo out of Dennis' story and the thousands of other kids who are like him. KLM has a mission to see transformation in communities both locally and globally. Through combining life experience and their hearts for children and community transformation, they launched the ministry to help others to know that there is hope for the future even if it does not always look that way.
Our location in Cebu, Philippines, the heart of where Dennis grew up is where it has all started. Through the gift of a hot meal, some fun and games, and a story of HOPE, KLM visits multiple feeding locations around the community to bring a hot meal, help youth to grow, serve, and find purpose in their lives. These kids (we call them our sweeties) will have a chance at a better future through sponsoring them to go back to school and finding a career that they love.
To see more, check out our website, see some of the current projects, and find out how YOU can partner with us to bring encouragement and hope to a generation of young friends around the globe!